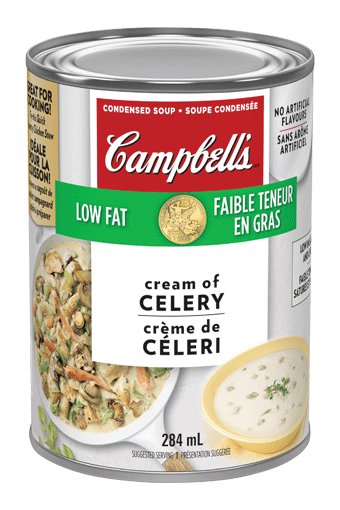 Dietary Alternative: Low Fat
Campbell's® Condensed Soups
Campbell's® Condensed Low Fat Cream of Celery
With the great taste you expect from our regular cream soups, our low fat Cream of Celery (1.5 g per 250 mL bowl) is definitely not short on taste. That's why you can enjoy a bowl any time of day or night or use it to add extra flavour in a variety of delicious and easy to make recipes you can find at CookWithcampbells.ca
| Per 125 mL Serving | Amount | % Daily Value |
| --- | --- | --- |
| Calories | 70 | 70 |
| Fat | 3 g | 5% |
| Saturated Fat | 1 g | 5% |
| Trans Fat | 0 g | 5% |
| Cholesterol | 5 mg | — |
| Sodium | 640 mg | 27% |
| Carbohydrate | 10 g | 3% |
| Fibre | 1 g | 4% |
| Sugars | 2 g | — |
| Protein | 1 g | — |
| Vitamin A | — | 2% |
| Vitamin C | — | 0% |
| Calcium | — | 2% |
| Iron | — | 2% |
WATER, CELERY, MODIFIED CORN STARCH, WHEAT FLOUR, CREAM (MILK),
CANOLA OR SOYBEAN OIL, SALT, WHEY POWDER, YEAST EXTRACT, SUGAR, SOY
PROTEIN CONCENTRATE, FLAVOUR, SPICE EXTRACT, BETA CAROTENE.
Nutritional Information is based on our current data. However, because the data may change from time to time, this information may not always be identical to the Nutrition Facts table found on the labels of products on shelf.